Spring is coming—and for those of us down south, it's coming fast. But if you live where the temps are still cold, have no fear. Your time is coming. To get you in the spirit, it's high time we celebrate spring dinner ideas that welcome the season with open arms and appetites. With fresh, colorful produce coming up roses, your palate is in store for a refresh in all the delicious ways. Plus, warmer weather means you can enjoy your offerings outside (arguably the greatest treat of all). Whether you're looking for rejuvenating salads, nourishing bowls, flatbreads with lots of toppings, or soups (yes, soups), we've got you covered.
Second to summer of course, spring has always been my "favorite season" runner-up. What's not to love? The weather's getting warmer, plants are blooming, and the winter blues have made way for a springtime refresh. And let's not forget about all the amazing produce (strawberries, asparagus, fennel, I'm looking at you). Things are more optimistic, more intentional, and more—let's be honest—fun.
Taking advantage of the wealth of produce we've got at our fingertips this time of year is a blessing, so let's make the most of it! These 25 spring dinner ideas are your ushers for the exciting season we've got ahead of us, so get ready to savor them!
Featured image by Michelle Nash.
Subscribe
Our Top 10 Recipes
Sign up to receive a FREE E-BOOK of my top 10 most popular recipes of all time!
Thanks for Signing Up!
Oops!
Looks like you're already signed up or your email address is invalid.
Oops!
Looks like you unsubscribed before click here to resubscribe.
Healthy Spring Dinner Ideas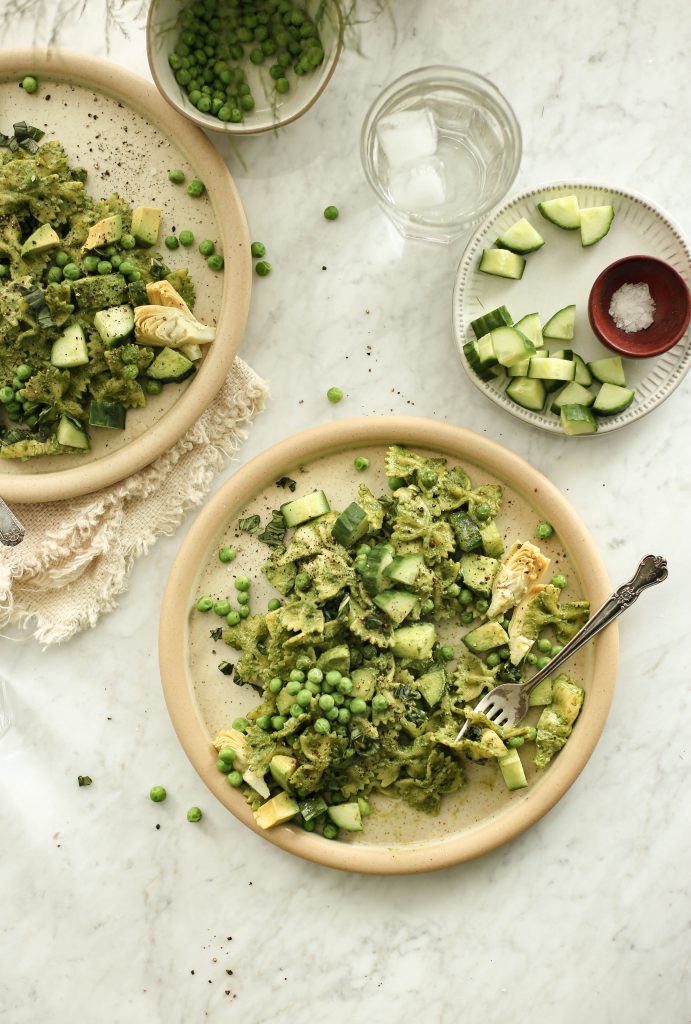 Green Goddess Pasta Salad
Why We Love It: Green goddess isn't going away anytime soon. She's the gift that keeps on giving, and in this recipe, she takes flight in pasta salad form. This decadent-yet-healthier pasta salad is jam-packed with fresh veggies and healthy ingredients that will have you glowing from the inside out. Don't believe me? Get ready to reap the delicious benefits.
Hero Ingredient: Don't hesitate to put your on twist on this based on what you've got. Any veggies you have on hand will work—even if they're not green!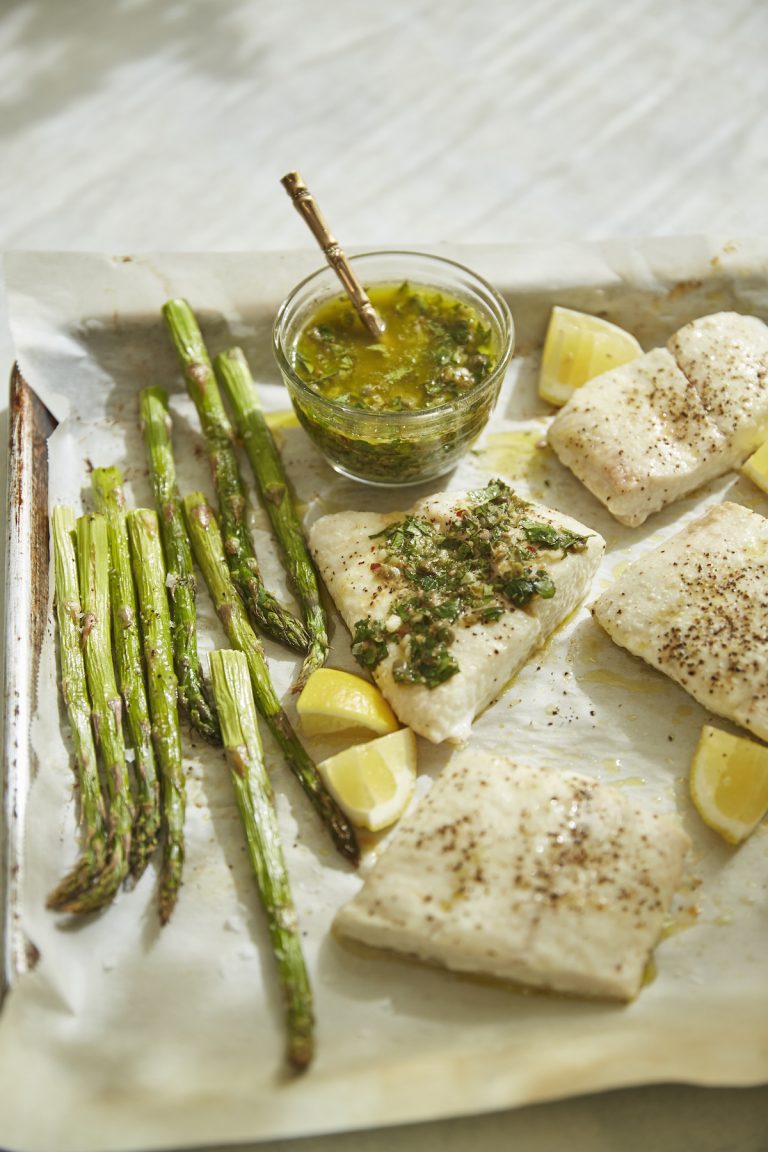 Sheet Pan Halibut with Italian Salsa Verde and Asparagus
Why We Love It: The humble sheet pan is one of my favorite ways cook fish. It's so easy and you can load it up with seasonal veggies that make it a full meal. In this recipe, it's all about halibut and asparagus with a zingy salsa verde. This dish is so much more impressive than you would think based on the effort that goes into it. It's perfect for hosting or date night dinner.
Hero Ingredient: The salsa verde gives everything an acidic bite.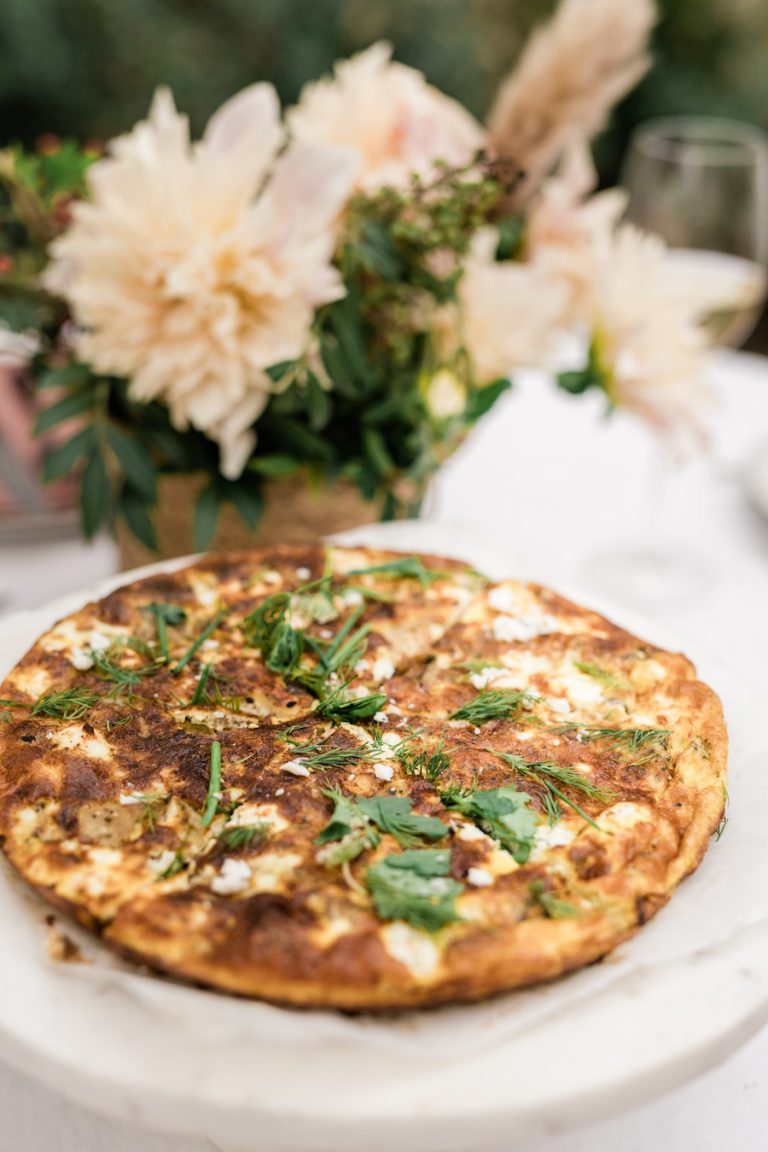 Mushroom, Spinach, and Goat Cheese Frittata
Why We Love It: When all you have in your fridge is eggs and a few lone veggies, this frittata is your saving grace. It's so simple and uses what you have on hand. In this recipe, we're focusing on mushrooms, onion, spinach, goat cheese, and lots of fresh herbs. It's light and healthy with its veggie-centric ingredients and protein-packed eggs.
Hero Ingredient: Lots of garlic gives this frittata the best flavor.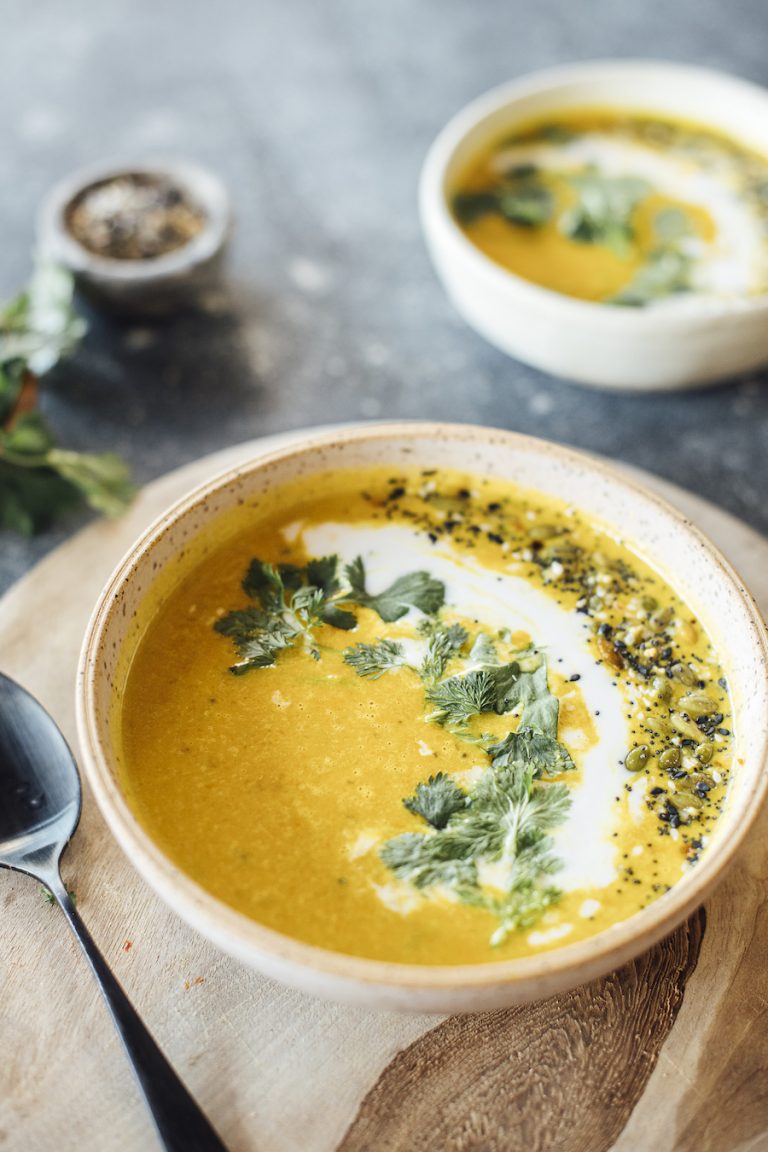 "Creamy" Vegan Butternut Squash Soup with Ginger & Coconut Milk
Why We Love It: Feeling bloated? Overindulged? In need of a reset? This soup is for you. This vegan butternut soup is just the anti-inflammatory cure you need to get back on track. And even if you don't feel those things, it's absolutely delicious for an easy weeknight meal that'll give you leftovers for the week! It has all kinds of good-for-you ingredients packed up in a simple, rich soup that you'll feel great eating.
Hero Ingredient: Full-fat coconut milk is key to giving this soup its creaminess.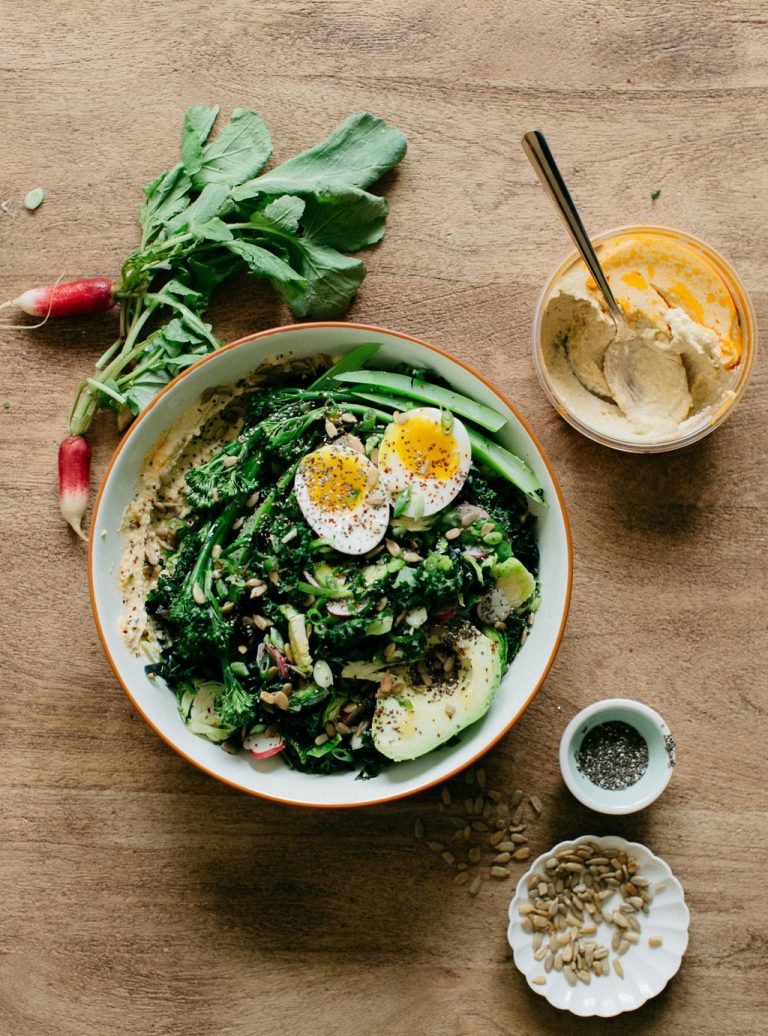 Hummus, Greens, & Avo Bowl
Why We Love It: So many healthy fats and nutrients come together under one roof in this glowing bowl. Its base is hummus, which is layered with broccolini, Brussels sprouts, kale, avocado, and jammy eggs. We're talking sunflower seeds, sesame seeds, and a zingy vinaigrette to finish it all off. It's totally capable of fueling you for the week, which is seriously impressive.
Hero Ingredient: By sautéeing the broccolini until it's just tender, you're getting a nice bite to contrast the creaminess underneath.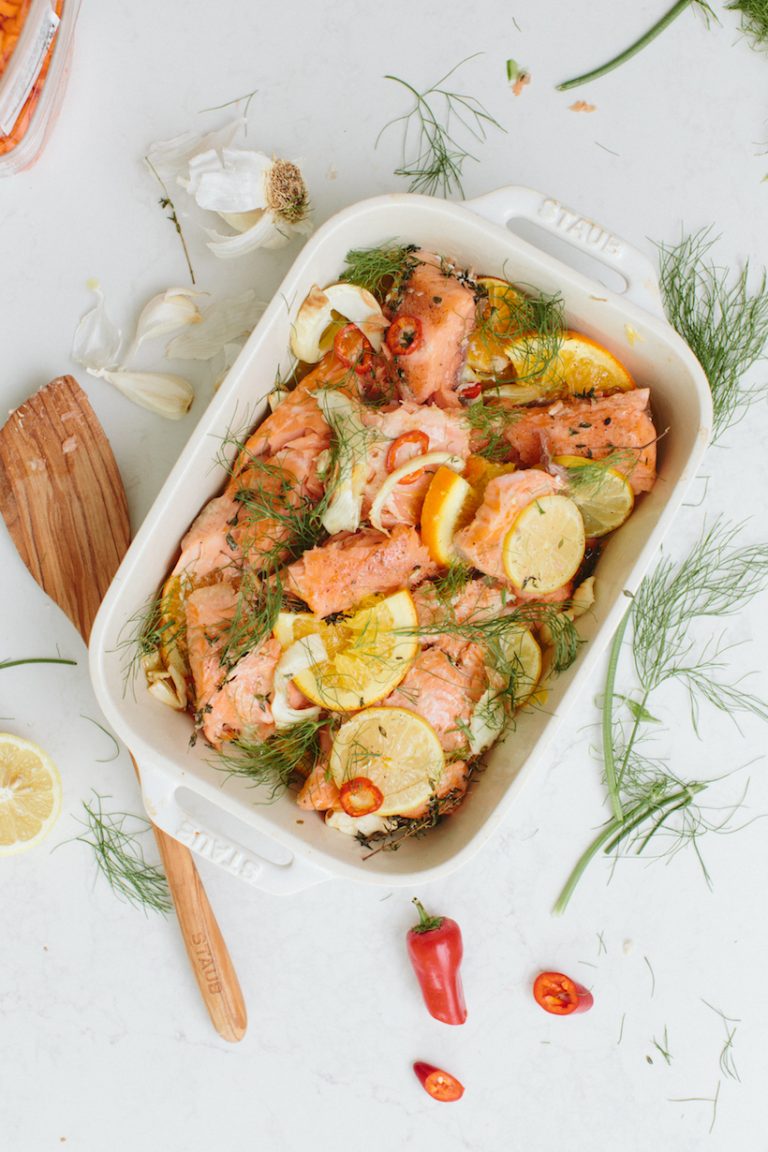 Slow Baked Citrus Salmon with Fennel & Herbs
Why We Love It: Whole-baked salmon is the simplest way to make an impressive main. In this recipe, a whole salmon filet is topped with lots of citrus slices, fresh fennel (bulb included), and tons of smashed garlic cloves. Then, it slowly roasts in the oven and absorbs each of the gorgeous flavors you've paired it with. When it's done, it looks like you put way more effort into it than you did—a nice bonus to enjoy alongside the beautiful fish.
Hero Ingredient: The orange and lemon slices give everything the most vibrant flavor.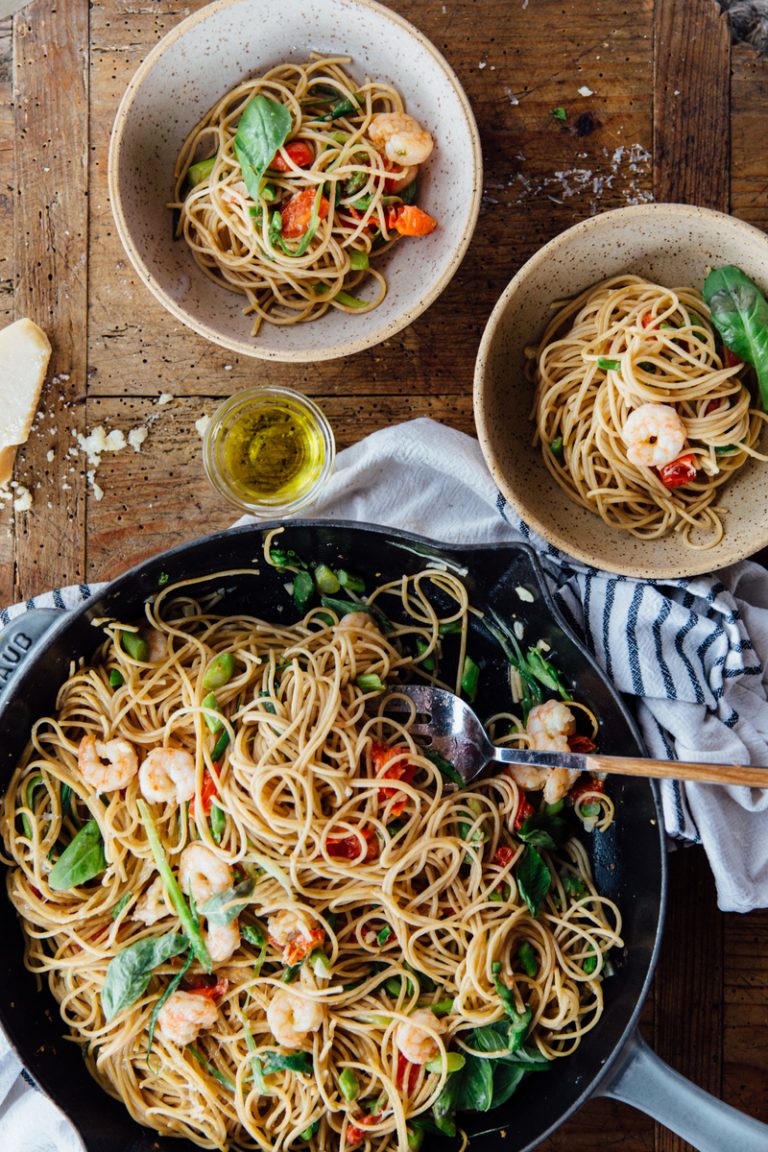 Spaghetti with Garlicky Shrimp, Asparagus, & Tomatoes
Why We Love It: Shrimp cooked in copious amounts of garlic is the lead of this stellar pasta dish. It's practically the embodiment of spring supper with its fresh asparagus spears and juicy tomatoes making an appearance as well. With less than ten ingredients, it's a simple springtime supper for when you're craving something more filling, but still full of healthy ingredients. The best of both worlds, if you will.
Hero Ingredient: I have to hand it to the generous amount of basil.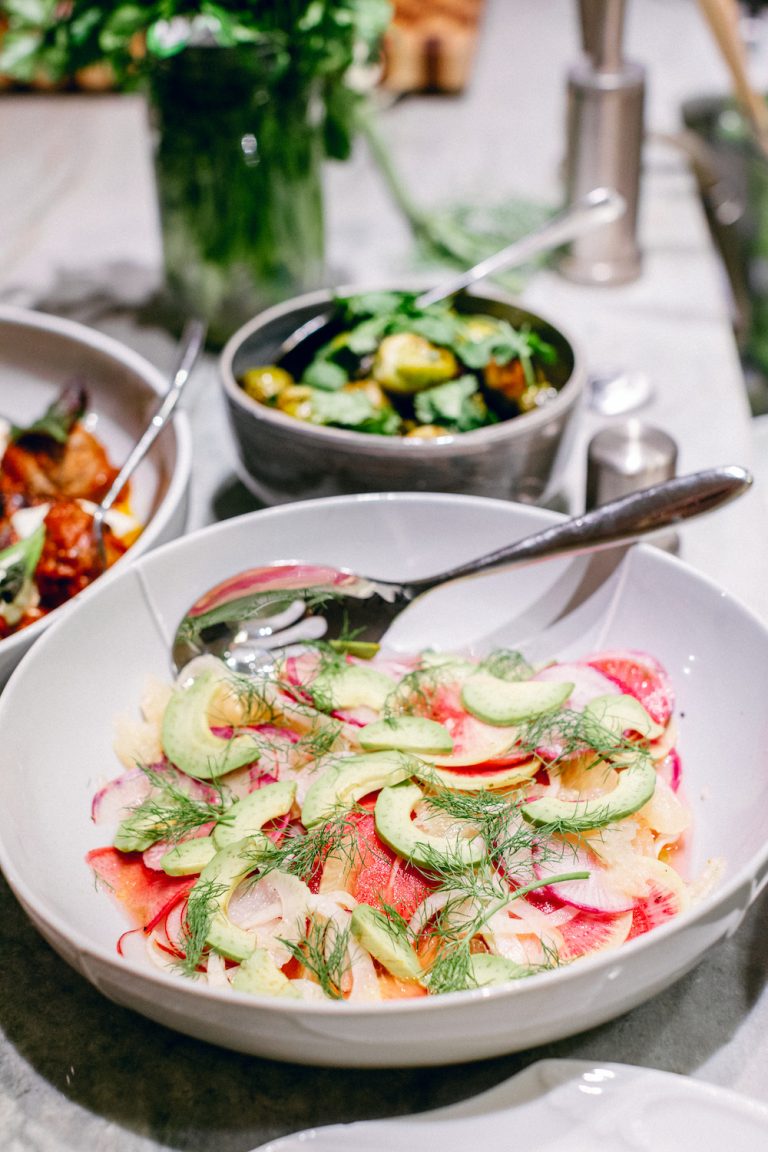 Radish & Fennel Citrus Salad
Why We Love It: Light, refreshing, and acidic, this citrus salad makes a delicious starter or light main for your spring menu. Crisp radishes meet fennel, grapefruit, avocados, and rice wine vinegar to create the most delicious lip-puckering salad. It's perfectly fresh and seasonal for an appetizer, side dish, or main accompaniment.
Hero Ingredient: It's gotta be the grapefruit. So fresh.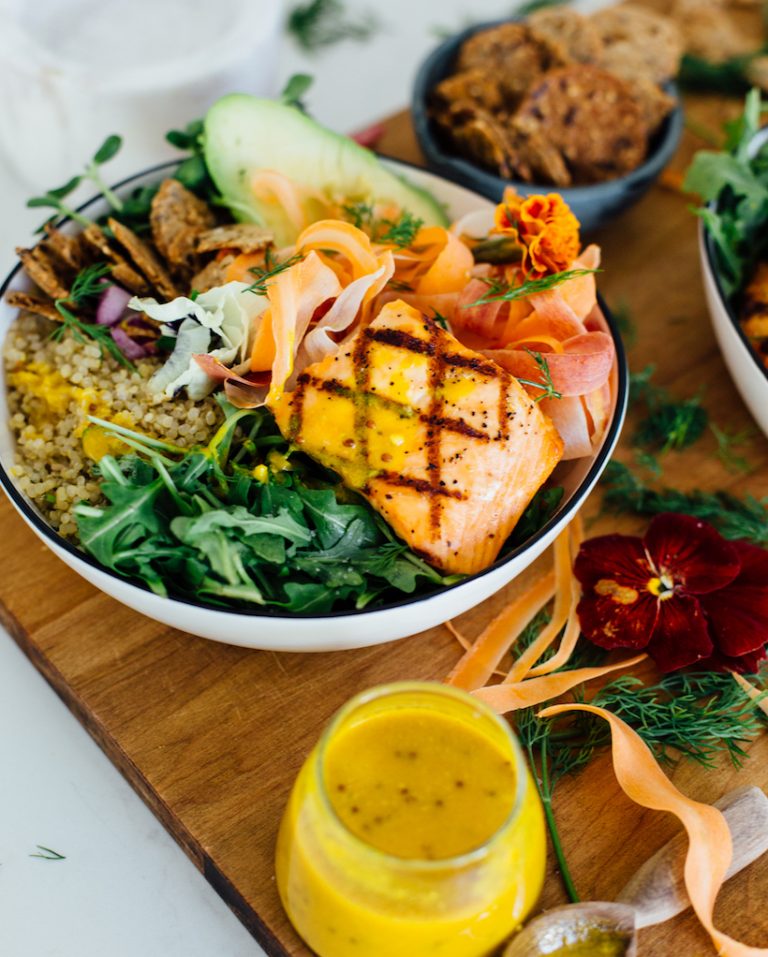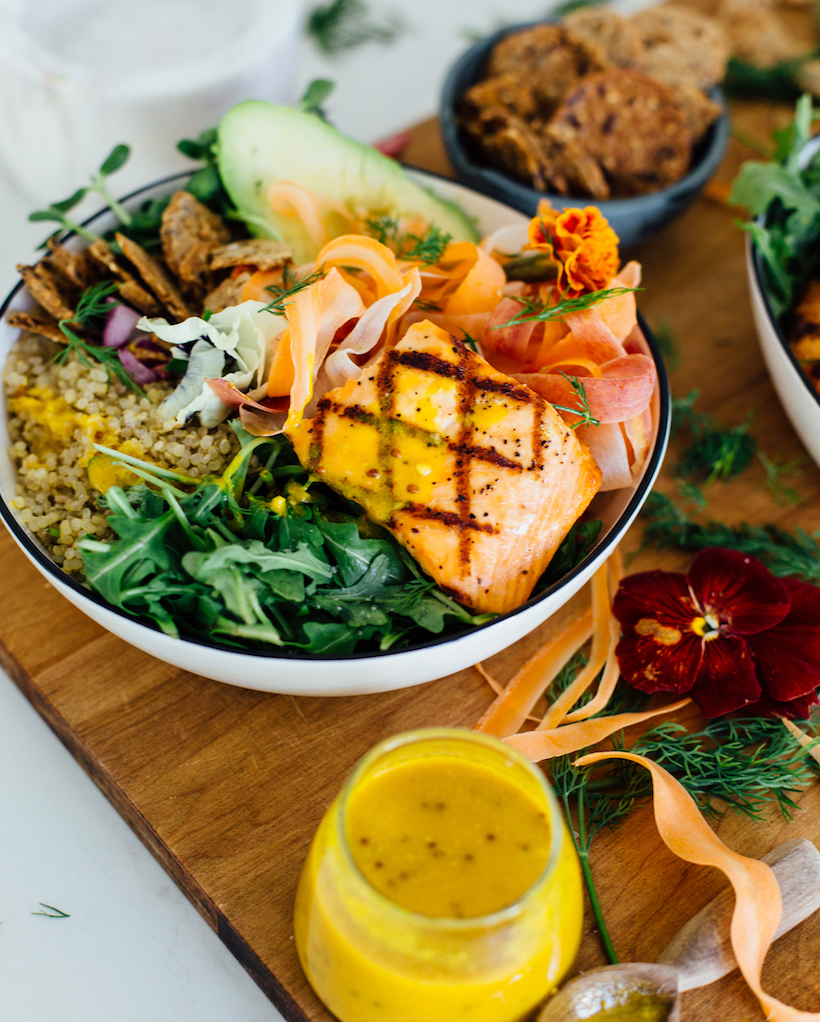 Spring Salmon & Veggie Grain Bowl
Why We Love It: This glowy bowl is full of vibrant ingredients that look great, taste great, and feel great. Quinoa, arugula, sprouts, avocado, carrots, and more form the base of this bowl that's then topped with grilled salmon. The best part? The turmeric-citrus vinaigrette. It's quite literally sunshine in a jar and goes perfectly with each yummy element of this bowl.
Hero Ingredient: Double (or triple!) that vinaigrette. You can enjoy it on salads, bowls, fresh veggies, or even proteins throughout the week.
Vegetarian Spring Dinner Ideas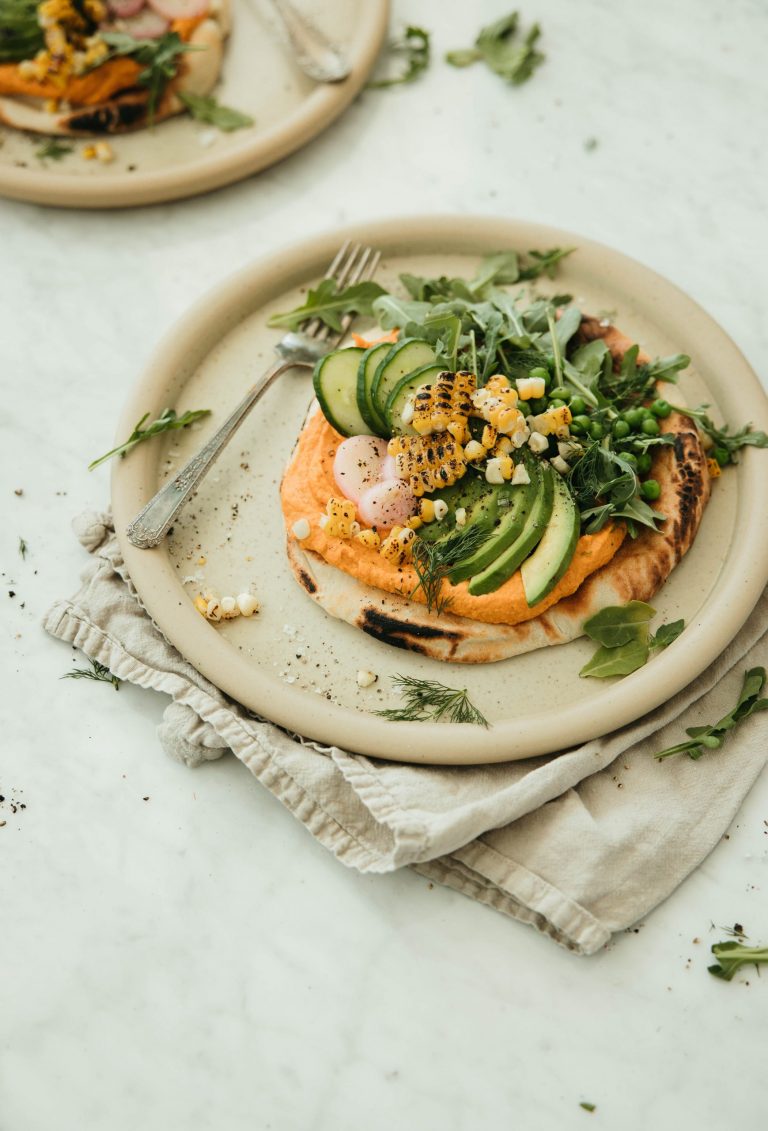 Vegan Flatbread with Roasted Carrot and Red Pepper Hummus
Why We Love It: This build-your-own flatbread is such a simple spring dinner idea for when you don't feel like cooking. Instead, all you have to do is assemble to your liking. Greens, cucumbers, peas, corn, avocado, and pickled shallots are your inspo for your own creation. Empty those veggie drawers, people!
Hero Ingredient: You'll want to add the roasted carrot and red pepper hummus to your weekly meal prep. Use it on sandwiches, wraps, fresh veggies, crackers, and so much more all week long.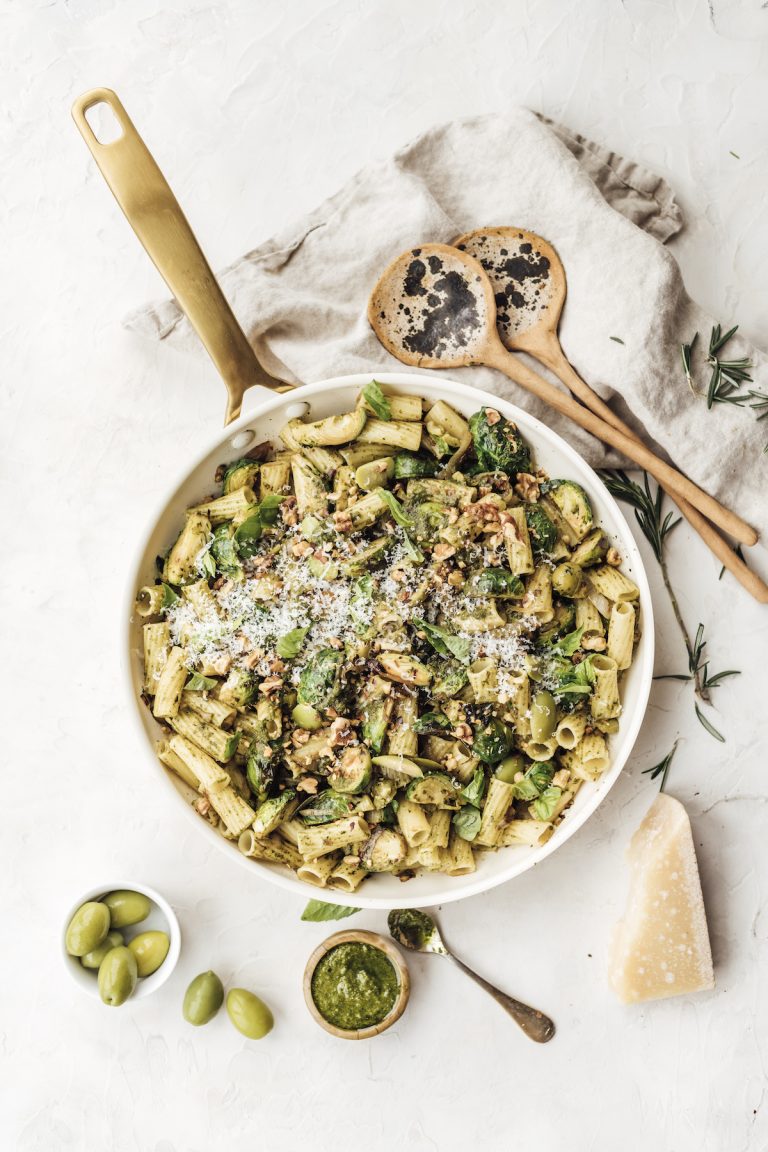 Rigatoni with Brussels Sprouts & Kale Pesto
Why We Love It: Camille says that when she and Adam tried this recipe for the first time, they were actually lost for words. It's that incredible. Everything in it complements the other so perfectly that you could eat it for meal after meal without getting tired of it. And that would be great because it's full of veggies, nutrients, and good-for-you ingredients.
Hero Ingredient: The crunchy walnuts sprinkled on at the end are this dish's star.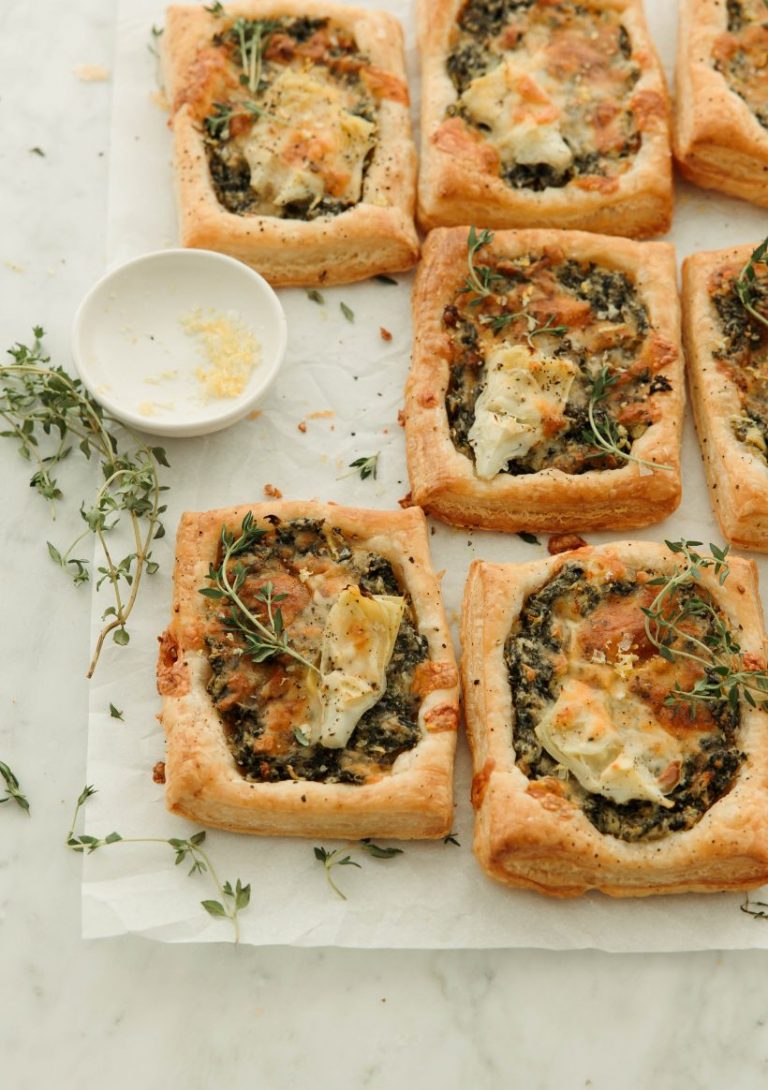 Spinach Artichoke Tarts
Why We Love It: These tarts are perfect for a snack, an appetizer, and definitely a dinner that's both easy and satisfying. They're basically the love child of spinach artichoke dip and puff pastry. Can it get any better? Quick, minimal ingredients, and indulgent, these spinach artichoke tarts make an ideal vegetarian dinner.
Hero Ingredient: A pinch of red pepper flakes gives these just the right amount of heat.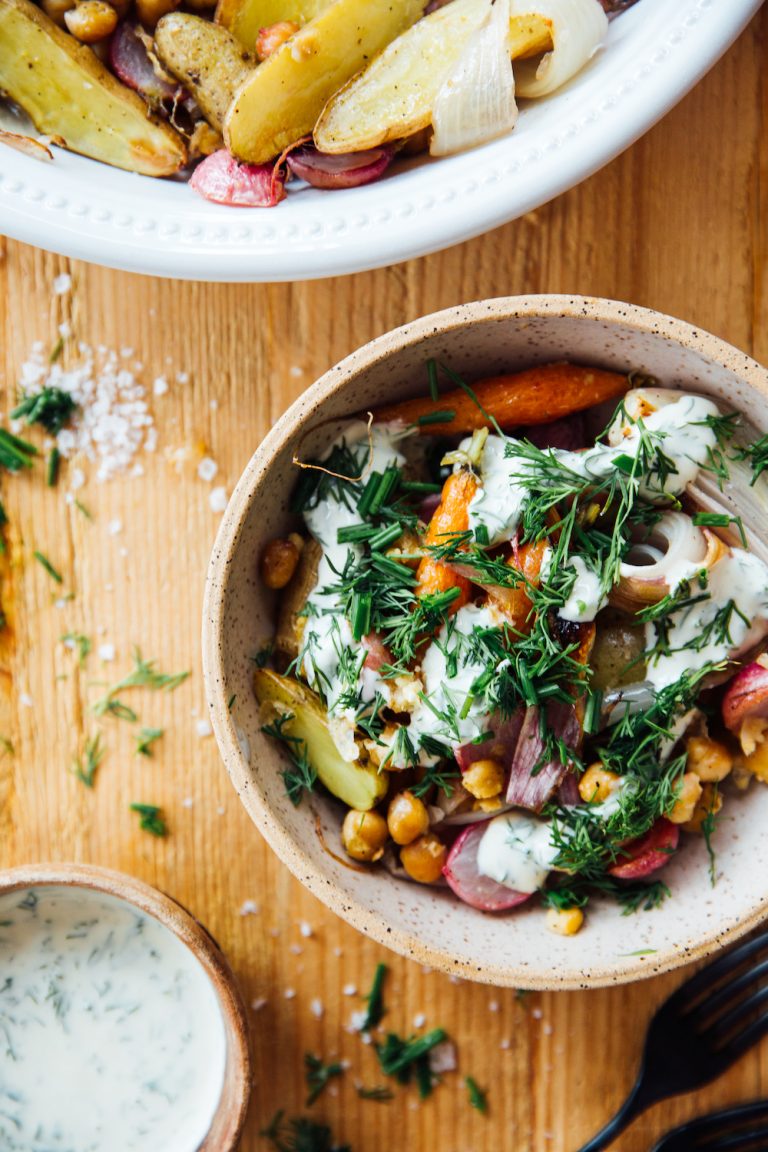 Sheet Pan Spring Veggie Bowl with Yogurt and Herb Dressing
Why We Love It: Your plant-based dinner has never been so easy or delicious. This sheet pan veggie bowl turns cooked veggies into a cohesive meal. All you have to do is throw those veggies on a sheet pan, drizzle them with olive oil, and bake until they're crispy and caramelized. Then, you'll top them with the most delicious Greek yogurt dressing that brings everything together.
Hero Ingredient: The dressing is truly magical. You've got creamy yogurt, sharp apple cider vinegar, honey, chives, and a whole slew of dill that gives it a floral flavor. Highly recommend upping the dosage of this dressing and keeping it on hand for the week.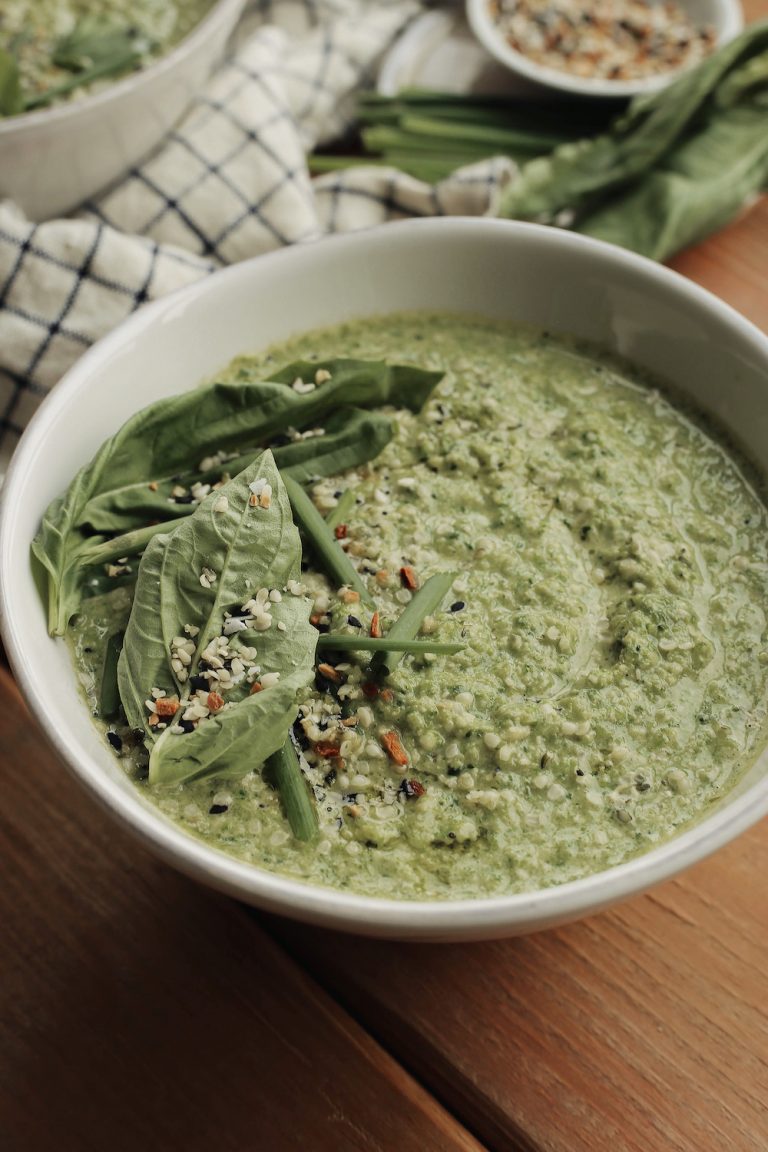 Big Green Immunity-Boosting Vegetable Soup
Why We Love It: Lean, green, spring dinner machine (pretty cheesy, I know), this immunity-boosting soup is exactly what you need to cure those allergy symptoms. Asparagus, broccoli, spinach, kale, sugar snaps, celery, and broccolini are the veggies in question here—and wow! This soup is packed with green goodness that's so nourishing.
Hero Ingredient: Soaked cashews give the soup all the creaminess it needs to be so deliciously decadent.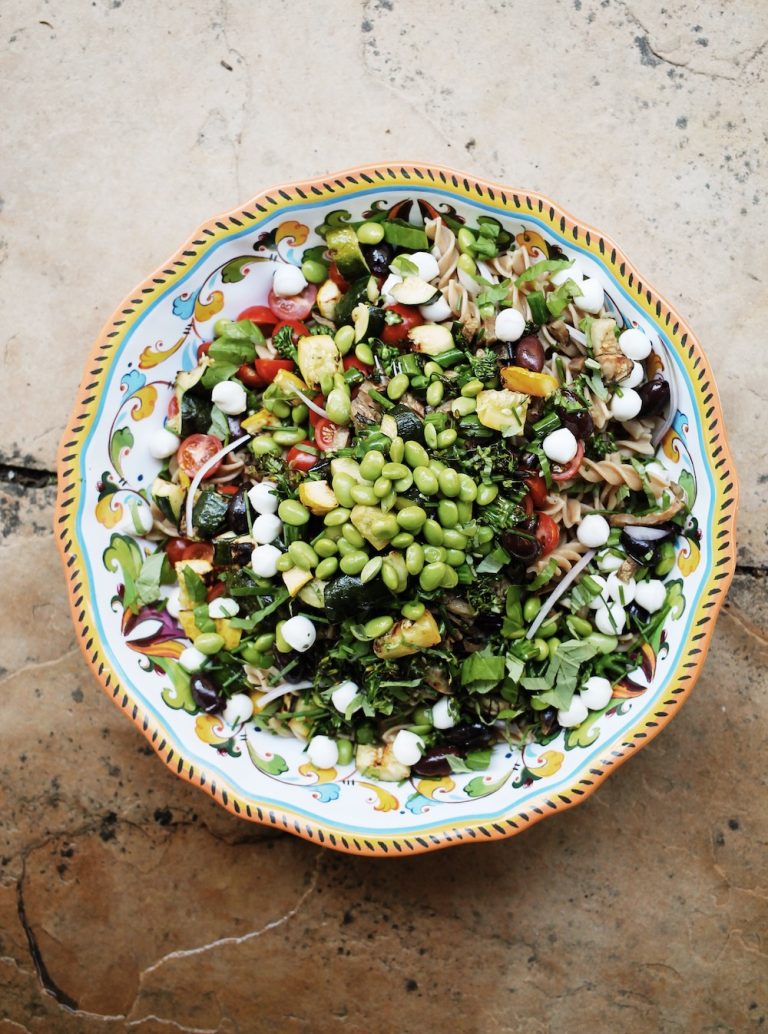 Summer Pasta Salad
Why We Love It: Summer, spring, who's counting anyway? This pasta salad is so delicious when the weather's warm and produce is poppin'. The best part? You can throw in whatever veggies you have on hand and they meld perfectly. Edamame, spring-y asparagus, bell peppers, cherry tomatoes, you name it. This pasta salad is so beautifully simple and ideal for the season.
Hero Ingredient: Mozzarella pearls bring plenty of creamy goodness to each tasty bite.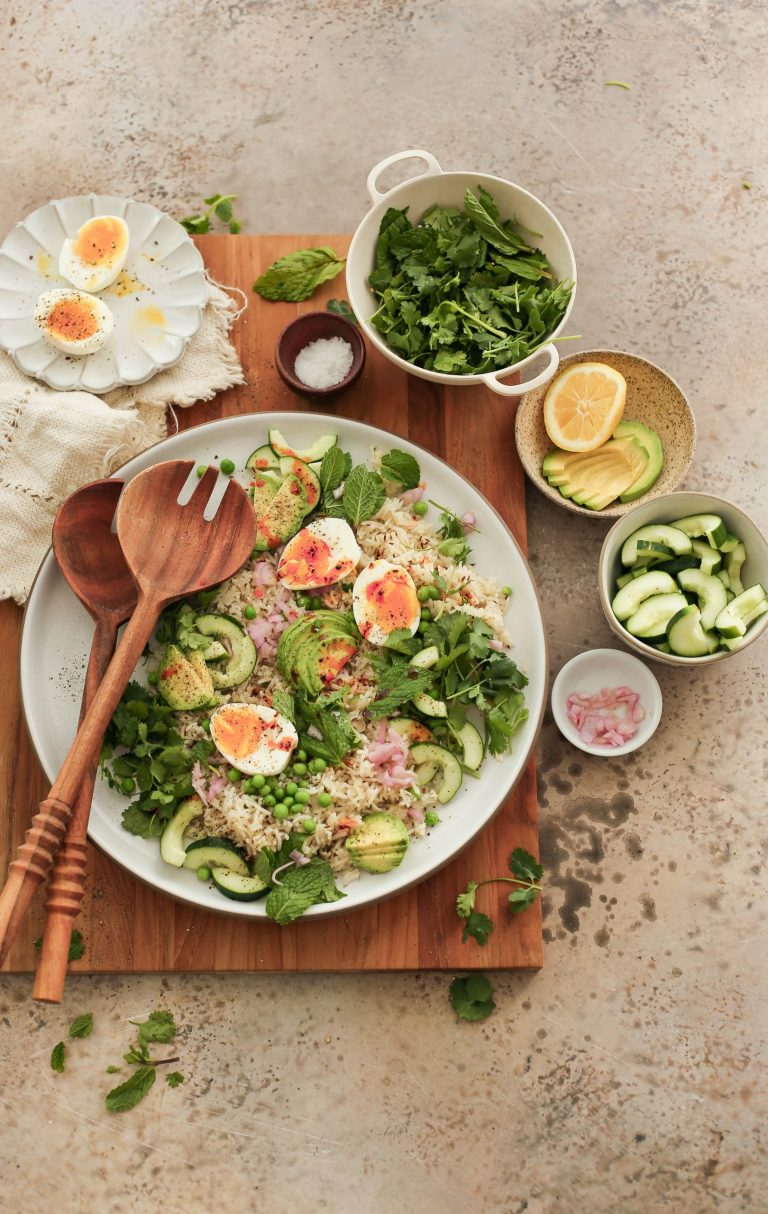 Spring Rice Salad
Why We Love It: This rice-based pseudo-salad is the satisfying and addictive dinner you didn't know you needed—until now, that is. Basmati rice gets the royal treatment from the peas, avocado, cucumber, pickled shallots, and fresh herbs that sit atop it. And don't forget about those soft-boiled eggs on top that lend their golden yolks to each gorgeous grain. It's a plate of love, to put it simply.
Hero Ingredient: Chili oil (or chili crunch if you're feeling adventurous) kicks things up a notch.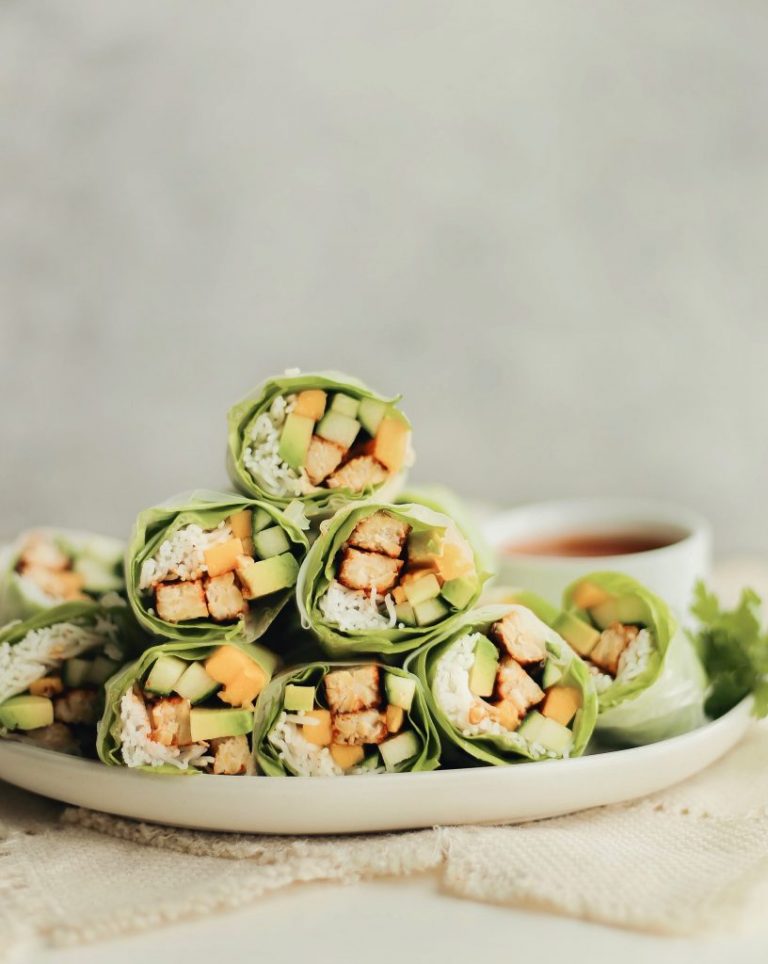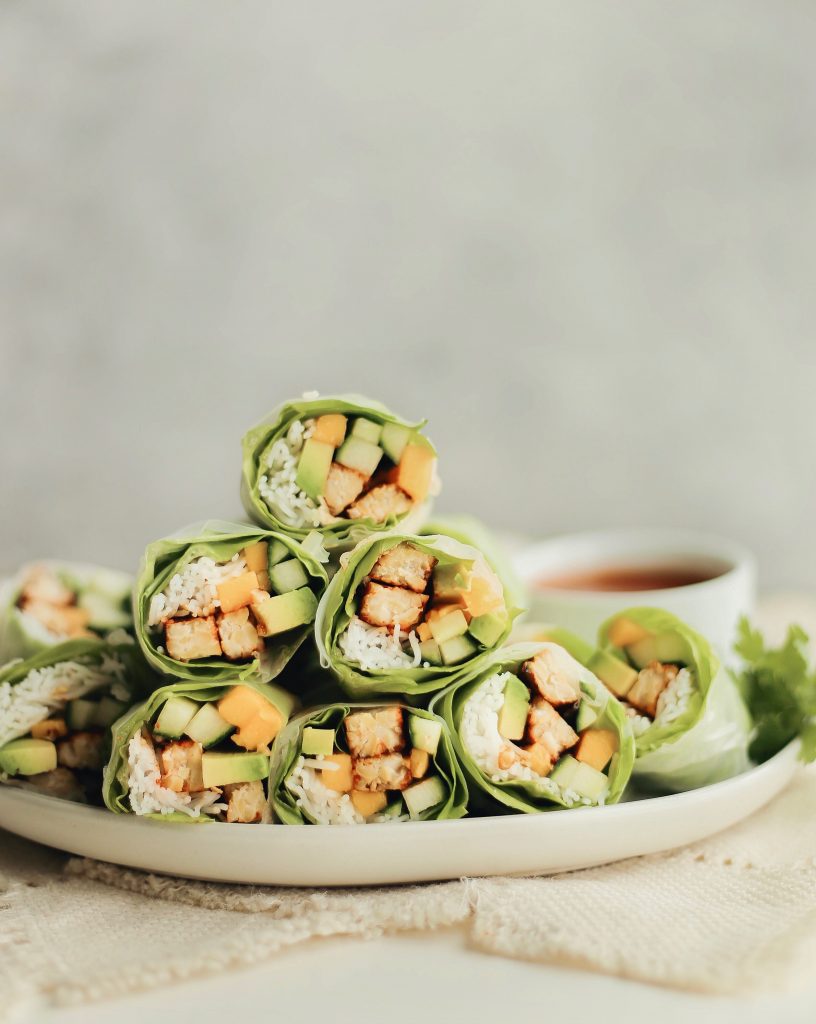 Honey Sriracha Tempeh Spring Rolls
Why We Love It: These little tempeh spring rolls are such a fun spring dinner idea. They're small but mighty as they feature a good bit of rice noodles, avocado slices, cucumbers, mango chunks, and baked-until-golden tempeh. They're simple, fresh, and full of tasty ingredients that each complement one another to perfection.
Hero Ingredient: When you're coating the tempeh, you have the option to marinate it for a few hours. If you've got the time, I highly recommend! It allows it to soak up more flavors and carry them into the spring roll.